In other words, are you ready to A.C.T. for Racial Equity?
That's kind of the question you've been toying with since you joined the e(RACE)r Fam-Jam isn't it?
Well I am so excited to announce that I did another thing!
I did a 'ting!
It's super groovy and super cool and I created it with YOU in mind.
You see, people come to me from all over the world, asking me for my advice on how to "do" racial equity work.
They ask me for tips and they as me for my thoughts on the hot mess of racism that is sending hate crimes sky-rocketing and fear exploding around the globe.
And they ask me something else too (though usually indirectly). They ask me if they have what it takes to become a racial equity leader in their own community. They know they have the heart, they know they see the vision, but they are struggling to figure out exactly what steps they can take to turn theory into action in their world.
Things are about to get deliciously juicy!
I wanted to find another way to help because I wasn't joking when I announced my birthday promise to all of you:
To support 100 anti-racist projects by May 2024.
I even made an awesome countdown to 100 to keep me on my A-Game: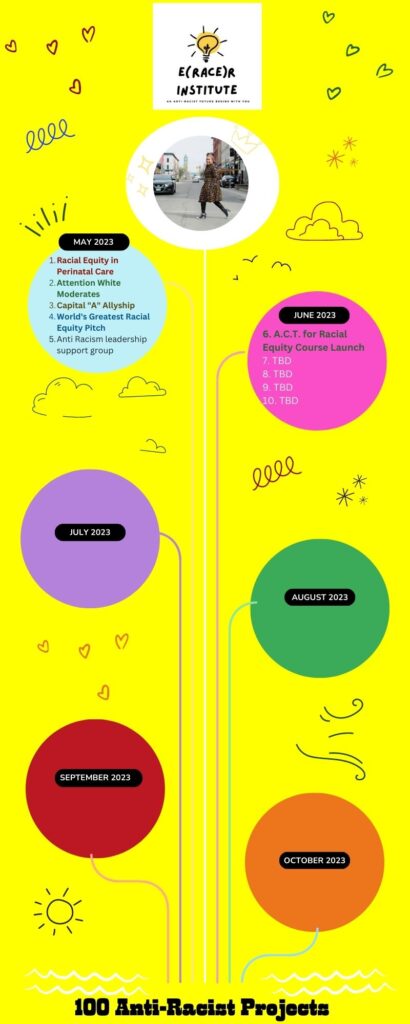 All I need is a minimum of 5 new projects a month and I'm golden.
And, THAT is why A.C.T. for Racial Equity is so important!
Inspiring A.C.T.(ion)
Folks, I was sitting in my living room, wondering how else I could better support people JUST LIKE YOU – people who were dedicated to the cause, but wondering about the role they could play in making racial equity come to life in the work they do.
And THIS is what happened!!!
ARE YOU READY?
Here's how it works
To A.C.T. for Racial Equity is to move from understanding anti-racist theory, to putting that theory into practice. And all you need to do is follow 3 easy steps:
A: Associate Meaning
Help you make connections between individual acts of racism and broader social justice movements.

C: Create Connections
Help you to articulate your strategic intentions in meaningful ways that set out real goals and targets that are assessed and re-assessed as you implement a racial equity project.

T: Tune and Fine Tune
Help you to tune and fine tune the pathway to your anti-racist vision.
The course I'm sharing with you will help you do that and more.
Are you ready to:
Turn anti-racist theory into anti-racist practice?
Turn an idea that you have into an anti-racist solution?
Gather the tools that will get an anti-racist project out of a rut, or off of the ground?
Then this course is for you.
You can work at your own pace. You can pick the pillars to work on one by one, or you can dive right in all at once. Totally up to you. You can even sign up for each pillar one at a time – literally whatever works for you!
Cause I love 'ya
When you select the Full Course, fun things happen! The bonuses include:
3 Live Virtual Teach-Ins: You are invited to 3 Teach-Ins designed especially for YOU. That's where I can answer question you may have after each section of A.C.T. is complete. Out inaugural Session runs from July – September with live sessions scheduled on the 3rd Saturday of each month. They will be recorded and shared with you if you have to miss one, so you can send in your questions and I'll answer them during the Teach-In.
An A.C.T. Playlist: To help you stay inspired, I have curated a special playlist to go with each A.C.T. for Racial Equity Session. With a focus on a surprise artist each month, this playlist will be used to help you create all the reminders you need to A.C.T. for Racial Equity!
A Special Surprise: Can't tell you that… it's a surprise!
And, cause I love 'ya, if you sign up to join our July crew, I will give you a 50% off coupon.
P. S. For those who love to bring the change in style, I have a special surprise for you too. Folks are are digging our e(RACE)r Institute Playlist! Now you be sure to like & follow it too! I keep adding songs that inspire me to do the work and I hope these songs help inspire you too!